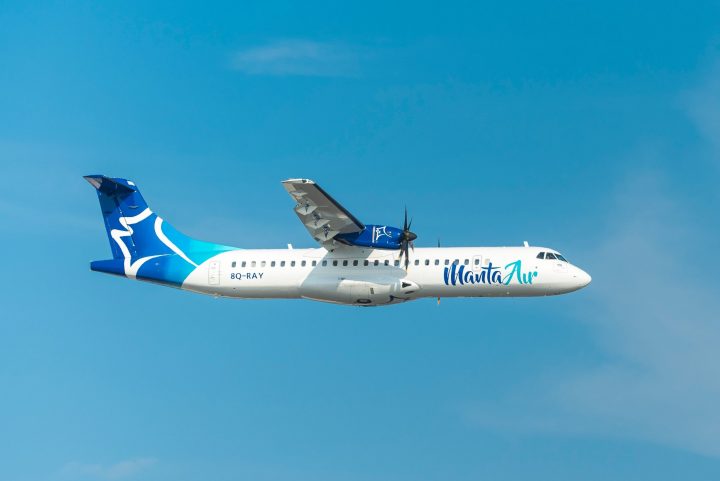 Manta Air Talks Expansion
Manta Air has announced plans to add further capacity to its current seaplane fleet, to bring in five new twin DHC-6 Twin Otter seaplanes by the end of 2021 to serve their robust domestic expansion plans. The new aircrafts will bring Manta Air's fleet to a total of fifteen, including their ATR 72-600 turboprops that are currently in operation today.
Commencing operations in early 2019, Manta Air is the newest addition to the Maldivian flight scene, taking quick strides into establishing itself locally while at the same time breaking new grounds as a gamechanger in the industry.
There was a serious gap in the industry when it came to domestic transfers in the country. Especially when you consider its significant role in the total tourist experience of the destination. The local flight experience is your first and the last impression, making it a major component in the machine at its entirety. From what had essentially been a crude "bus service" between the international airport and the domestic destinations, Manta Air has been instrumental in bringing in a whole new era to domestic air travel.
The brand-new ATR-72-600 aircrafts were modified with a reduced seat configuration to provide additional legroom for a more comfortable flying experience.
Focusing on delivering a highly organized and professionally managed flight service with enhanced cabin comfort and elevated passenger experiences, Manta Air was the first to introduce prescheduled flights in the country, bringing in reliability and removing the fear of uncertainty for passengers flying in the Maldives. Advanced booking capabilities was unheard of, and a fixed schedule was thought to be impossible and economically unfeasible. However, the truth of it all is that it was never an impossibility. It's just that it hasn't been done yet. Manta Air recognized this gap and successfully adapted its newly launched operations to fulfill this need. The same pre-published schedule of operations is applied across seaplane operations as well as the domestic ATR flights. The schedules are devised in full cooperation with the resorts, which allows the timings to be in sync with all major international flight arrivals and departures.
One of the primary goals of the carrier was in bringing on a massive change to how customers experience air travel in the country. In order to deliver this, comfort was a key factor. The brand-new ATR-72-600 aircrafts were modified with a reduced seat configuration to provide additional legroom for a more comfortable flying experience. Manta Air was also the first local carrier to offer two classes of travel, where passengers can choose between "comfort class" offering a convenient 32" of leg room and the "Sapphire" class with an impressive seat pitch of 36" supported by enhanced cabin services and lounge facilities.
The Maldives receives over a million tourists annually, with that number growing significantly every year. The country currently has 151 resorts in operation, alongside over 600 guesthouses scattered across roughly 90,000 square kilometers, making domestic transportation and infrastructure crucial components in supporting this multi-billion-dollar industry in such a geographically dispersed destination.
Currently the airline operates flights to Kudahuvadhoo in Dhaalu Atoll and Dharavandhoo in Baa Atoll. Although the current focus is on fully maximizing their capacities at these locations, the company ensures to keep its eye on the horizon to add further destinations to its evergrowing portfolio. This year, Manta Air is gearing up to start their first ever scheduled international flights between Maldives, India and Sri Lanka. Flights will be scheduled between Dhaalu Airport and several cities in India, covering Bangalore, Cochin and Trivandrum. Flights to Sri Lanka will be between Dhaalu Airport and Colombo. This will be a significant milestone to achieve within such a short period of operations for any local airline.
With an unwavering passion for innovation and a relentless attitude towards creating enjoyable and effortless flying experiences in the country, Manta Air has received an overwhelming support from the public as well as the tourism industry stakeholders.