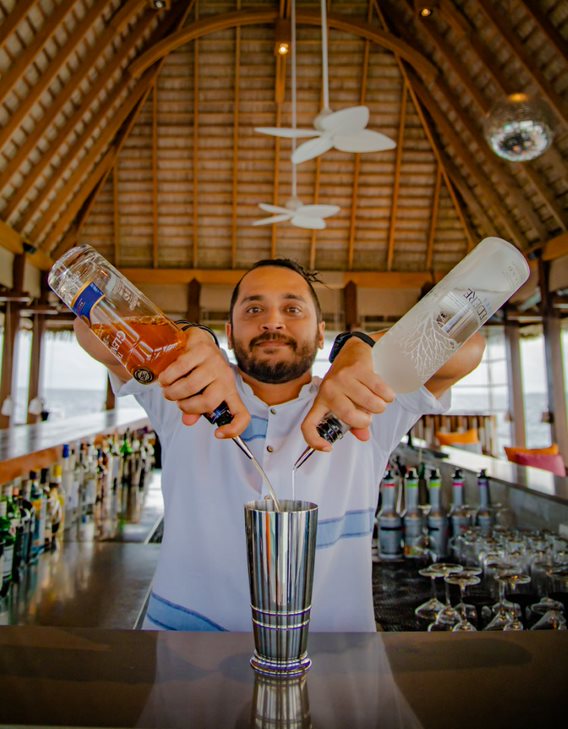 Nifraz Mohamed Naheem, Mixologist, W Maldives
Nifraz Mohamed Naheem is a mixologist at W Maldives. Born and raised in Kandy, Sri Lanka, he has worked in W Maldives as a mixologist since 2009. In 2019 he was promoted to head mixologist (liquid specialist). However, he never set out to become a mixologist, he dreamt of being an accountant before he started shaking cocktails, but once he found this vocation, he says he discovered 'cocktail curation is in his blood and runs through his DNA'.
Hotelier Maldives catches up with him to find out more about his work.
Hotelier Maldives: What is it like to work at W Maldives?
NM: Working with W Maldives is the golden time of my career. W Hotels as a brand is all about 'cocktail culture.' Our guests crave inspired drinks and want to know the story behind them. With its global brand positioning, it is a crucial role with ample opportunity to amplify the brand through my own curated mix with a twist of local lifestyle-oriented experiences and my strong passion for creation.  Our liquid curations are available at all dining venues at W Maldives, throughout our four restaurants and two bars. However, they are best served at the live bar counters of SIP and WET. Guests enjoy signature cocktails with light delectable eats and sweet treats – without leaving the cool pool of the water at WET. The best place for a sundowner and to watch the breathtaking Maldivian sunset while sipping our liquid curations and chilling to the beats of our own music curator, is definitely at SIP.
HM: Tell me about how you become a mixologist?
NM: Becoming a mixologist was never my dream nor did I imagine it to be my chosen field in the future. My ambition was to become an accountant until the realization dawned on me that I would be sitting in a four-walled office for eight hours a day doing the same thing every day in front of a computer. This was not the lifestyle I wanted to devote myself to for the rest of my life. I wanted to do something interesting and experiment with new things every single day. I believed the world should know me for something that I love to do. This led me to two career options, professional painting or becoming a mixologist. I chose the latter. With this passion, I earned the motivation to finally design my life – I completed hotel school and began to work in the industry. It took me two years to clear my way towards mixology. Now here I am with 13 years of experience at W Maldives.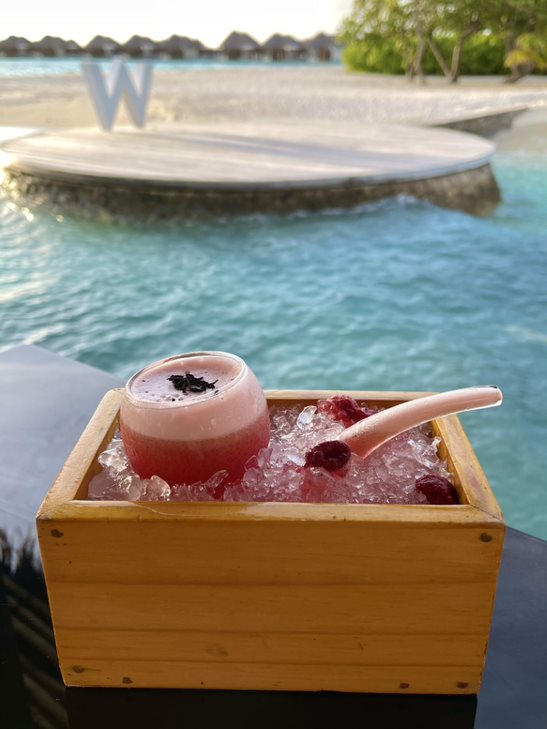 HM: What is the best thing about working as a mixologist?
NM: It is never boring. For me, the best thing about working as a mixologist is to be able to craft the liquid flavours guests crave. As a mixologist, we can mix and mingle with guests and explore and understand people and their characters. This I believe plays a great motivation and a challenge for me to experiment with my own creations based on their tastes and their cravings. I deliver a diverse experience to them infused with story-telling and foraged ingredients. I create Insider Menu Cocktails off the menu and bar workshops from time to time.
HM: What's is the best advice you've been given
NM: Work hard, stay humble. Success is a beautiful thing but stay humble as you progress on your path. There are more opportunities for great bartenders today than ever before, but the job keeps evolving.  Learn as much as you can from your mentors but don't stop there. Rise up and create a long and meaningful career. Make sure you're diversifying your skillset and communicating what you want long-term to your superiors. They will help outline what you can do to get to where you want to go.
HM: Do you enjoy making cocktails and if so, what is your specialty?
NM: Cocktail curation is in my blood and runs through my DNA. I enjoy every bit of it – the joy, the struggles, and the success. Most of my creations are fruit and vegetable based with fruit infused liquor. I'm also fond of creating homemade herb syrup for cocktails. My favoute cocktails are with a Maldivian touch. As a liquid specialist, I never sell a cocktail but offer a memory – it's my personal virtue as a mixologist.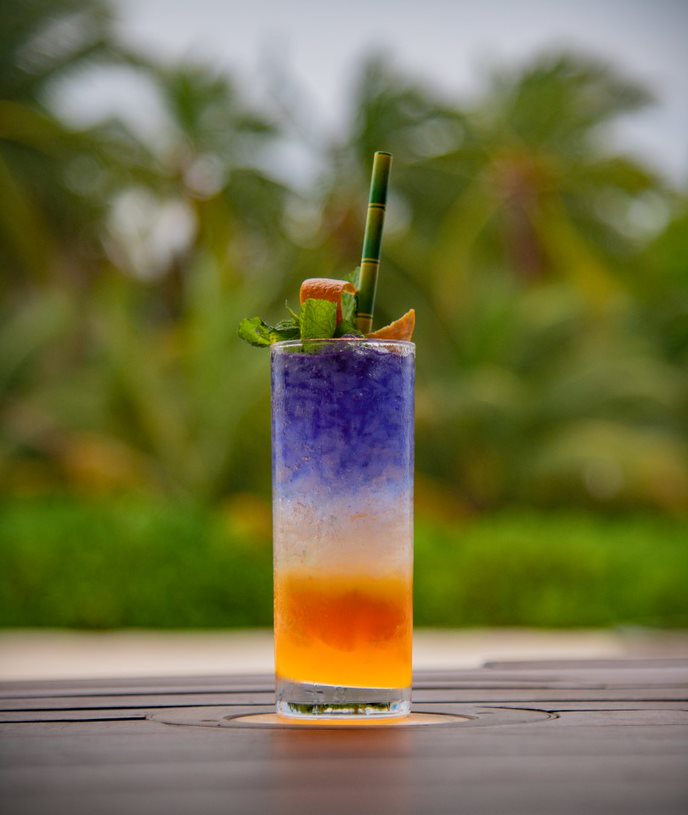 HM: Who inspired you to become a mixologist?
NM: Alexander Shtifanov, a multi-world champion in flair bartending. He inspires me in this field. By simply watching his videos, I feel how deep his passion for bartending is. He is an expert in our industry with a comprehensive knowledge of liquors and the perfect mix of ingredients.
HM: What are your top five drinks?
NM: These signature cocktails created by us at W Maldives.
Ocean Mist by Nifraz – Playfully coloured with vibrant shades of blue and orange. Pea butterfly infused rum, fresh mandarin and orange juice, homemade ginger syrup, fresh lime juice, Prosecco
Dancing with almonds – Beautifully caged bird cocktail that is so full of love. Absolut Blue Vodka, strawberry juice, orgeat, lemon juice, egg white
Smokin Razz- Witty styled in a glass smoking pipe topped on iced box. Beefeater gin, lapsang tea syrup, fresh lime juice, egg white, raspberry
Double Trouble – The famous shopping cart cocktails of W Maldives. House spiced rum, mango, passion fruit juice, orgeat, fresh lime juice, cinnamon dust
Abuelo Mojito – Cocktail with a local touched coconut glass. Peppermint tea-infused Bacardi rum, chamomile honey syrup, fresh lime juice, soda
Read the previous mixologist interview: Akshay Prakash, Bartender, JOALI Maldives