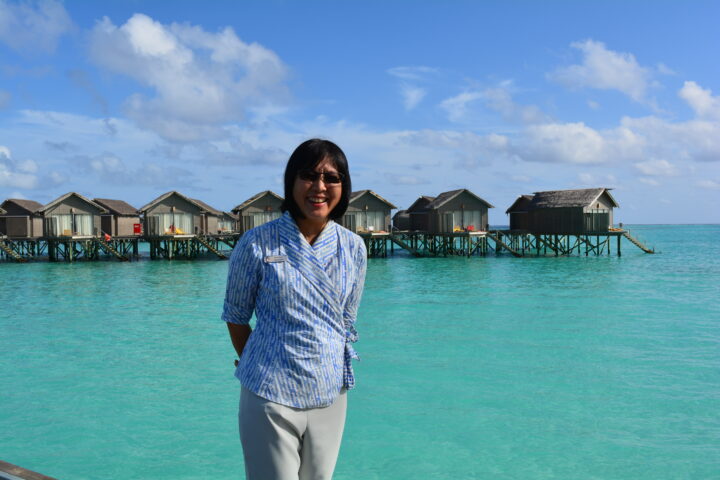 Women in Hospitality: Prapaijit Thongma, general manager at Centara Ras Fushi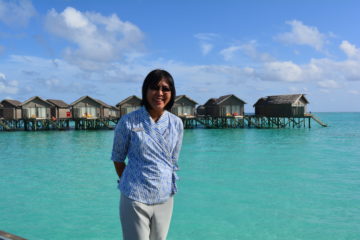 For the latest installment of our Women in Hospitality series, we speak to Prapaijit Thongma, general manager at Centara Ras Fushi Resort & Spa. In an industry where women make up only 8% of the workforce, this series aims to spotlight women in leadership positions throughout the Maldivian hospitality sector. Hailing from Northern Thailand, Prapaijit has been in the hospitality industry for more than 30 years, and first came to the Maldives with Club Med in the late '80s. Here she talks about globetrotting, leadership and how Thai and Maldivian people share a passion for making people smile.
How did you know you wanted to get into the hospitality field?
I knew at a very young age. I completed my schooling and then, because I had studied French, I took a job as a secretary at a big Belgian company that was building a zinc refinery. You might not think it, but the role of a secretary is very much like working in hospitality. I was taking care of more than 100 expats, helping them in a new country. Even then, I loved to host people, to entertain them and I had great attention to detail. So when my contract was over (and the company contract was due to end soon after), I decided to look for a job in hospitality.
What was your first role in a hotel and what did you learn from it?
After leaving the Belgian company, I moved to Malaysia to join Club Med as a cashier. That was back in 1985! It was there that I learnt that you should always strive for excellence, to take full responsibility for your role and to never stop dreaming! I would end up staying with Club Med for almost 15 years.
How did your career progress?
After about 8 months in Malaysia, I returned to Thailand. It was very common in those days to move around a lot. Club Med's policy was to move staff every six months or so. So I returned to Thailand, but this time to the south – to Phuket, where I became an HR administrator. As I spoke French, it was easy for me help the management communicate with the staff and that was very useful in HR. After about two years, I moved to Mauritius, where I began working as the transportation manager and then later to the Maldives. After that, I changed to front office and as front office manager I was spent time at many different properties– I was in Bali, in French Polynesia, Indonesia, Tunisia…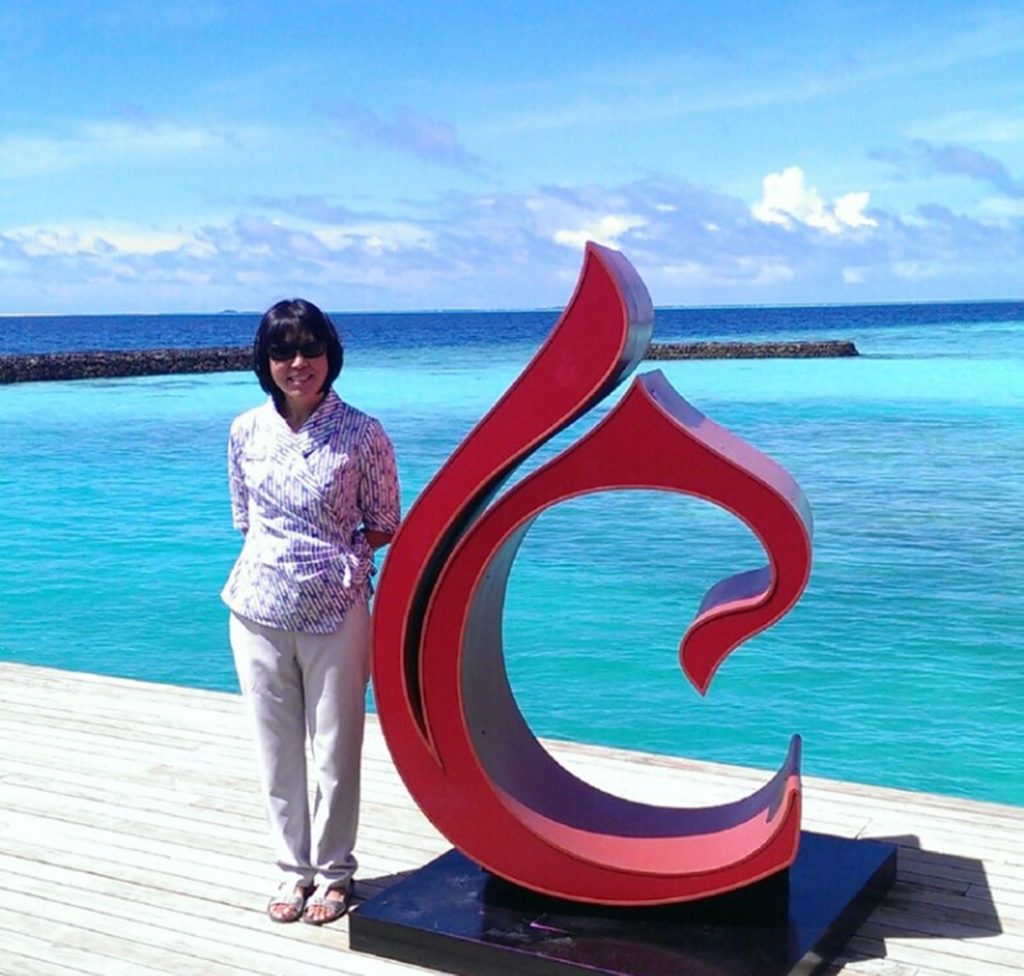 When did you first come to the Maldives?
In the late 80s, I came to the Maldives for the first time, to work in the transport department. Back then, I had to go to the capital very often, to reconfirm our guests' flight tickets. In fact, I was in Male' the night of the terror attacks in 1988. Luckily, I left just hours before the violence started but I remember going to the airport the next day and seeing the airlines offices transformed into makeshift first aid centres. It was a sight I'll never forget.
Moving so much in my career taught me to recognise the beauty in every country and to understand that each place has its own unique energy. Even years later when I returned to Club Faru, where I was stationed in the 80s, the smell of the island really hit me – the smell of the particular trees and air there – it was very nostalgic.
When did you first become a general manager?
 In 2001, I moved to Bangkok to join the Sofitel Central Plaza Bangkok as the Front Office Manager. At that time, the hotel was actually already owned by Centara, but as it was such a new brand, Centara chose to have the property managed by Hyatt Hotels and Accor. There I was promoted to rooms division manager before transferring to Centara Grand Beach Resort & Villas Krabi for the pre-opening period in 2004 as the executive assistant manager of rooms. I left Centara for a few years and then in 2009, I joined Centara Grand Island Resort & Spa, Maldives as the resident manager of the pre-opening team. As it was the first property outside Thailand, it remains until today the brand's flagship resort. In 2013, when Centara Ras Fushi opened, I transferred as the hotel manager and in 2014, I was promoted to general manager.
What do you think are the qualities that someone needs to possess to become a successful GM?
For me, it's all about leadership. I would describe my leadership style as being based on trust and good people skills – I've got the trust of my team, the shareholders and the management. When I have their trust, I can also gain their respect. And of course, every general manager has to have charisma, passion and commitment. Another crucial quality is vision. As a GM, your role is not just to manage the day-to-day running of the property. You've got to move forwards and change, and you have to be able to see how you're going to do that. It will be the legacy that you leave behind. Whatever you do, you have to follow your dream.
What differences do you see between Thai and Maldivian hospitality?
Actually, I think we're quite similar. Maldivians are very kind, gentle and welcoming people. Thai people are always smiling, respectful and humble as we strive for success. We all love to see the guests happy. It's in our blood; we are both from a similar region.
Why do you think Thai hotel brands have been so successful in exporting their style of hospitality abroad?
Thailand has been a known holiday destination for a long time. People know what to expect in Thailand. Thai people may not be experts in terms of language, but our attitude, body language and sincerity can communicate so much and that strikes a chord with travellers. We're also very orientated towards the details. So when visiting a Thai property, even outside Thailand, people can be confident that they'll receive genuine service.
This Women in Hospitality series in part tries to tackle the issue of low female employment in the Maldivian hospitality sector. Is there a similar gender imbalance in the hotels in Thailand?
In Thailand, both genders work – always, non-stop! It's just the way of life there. If women don't go out to work, they run businesses from their homes, with their families. For those women that work in hospitality, in some ways it is easier- they get to go home at night to see their children. They can still be there to educate them. In the Maldives, it's harder for women to be able to do that because the resorts are far from the communities.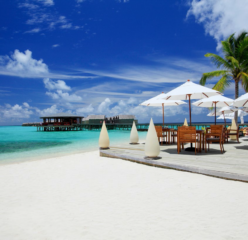 What can resorts do to increase numbers of female employees?
Well, and I'm speaking about both genders here, your people have to be your top priority. You should never underestimate anyone and you should always remember that everyone has his or her own personal goals. So what resorts can do is provide thorough training to help people progress. We should give people a chance and always remember that somebody once gave us a chance, too.
What's next for you, and for Centara?
For me, I never think that I'm at the top. I still have a lot to learn. Every day, you have to keep up to date – with the market and with the brand. In terms of Centara, there's a new property scheduled to open in 2016 and more  in the pipeline. The company is growing so fast now – since we opened Centara Grand here in 2009, 31 properties have either opened or are under development outside Thailand. I love this company and whether I'm here or at one of the future properties, I know I'll keep learning and loving this role.