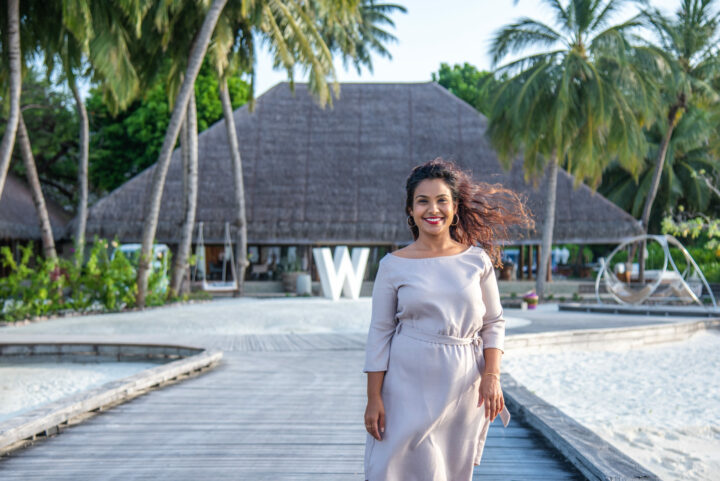 Shidha Hussain, Reservations Manager at W Maldives
Hotelier Maldives: Can you tell us more about your first role in the luxury hospitality industry?
Shidha Hussain: I was first introduced to the world of hospitality when I joined the COCO Collection part of Sunland Hotels Pvt LTd in 2010 as a Cluster Reservation Agent. It was there that I learnt how to assist customers with planning, booking reservations, processing payments and sending confirmation details to guests from around the world. After three years and one promotion I decided it was time for a new challenge.
I studied science at Aminiya School as I am a curious soul always eager to understand how things work. From there I attended Hotel Management School graduating from Avid Training Centre in 2005.
Hotelier Maldives: How did your career progress to your current role as Reservations Manager at W Maldives?
Shidha Hussain: My experiences and expertise landed me a role with Marriott International as a Complex Reservations Agent for Sheraton and W Maldives in 2016, managing two properties in the Maldives. I quickly jumped to a supervisory role and in January 2018, launched the onsite reservations team based on property at W Maldives as the Assistant Reservations Manager. Leading a new team has been such a fulfilling experience, I enjoy listening to my team the same way my leaders would listen to my thoughts. Through training and mentorship from leaders, my passion for the industry grew even more. Now I am the Reservations Manager at W Maldives and entering a new year stronger than ever.
Hotelier Maldives: How would you describe your role as the Reservations Manager at W Maldives?
Shidha Hussain: At W Maldives we deliver 'Whatever/Whenever' service to our guests be it by email, over the telephone and especially face to face as we greet all of our arrival guests. My team and I enjoy booking people's dream escape to this luxury playground. For many guests, it is the trip of a lifetime and we are simply there to make sure we deliver on more than just the villa, airport transfers, dining and excursions. The reservations team is the first and last point of contact for all guests, we present the feel of what W Maldives is all about. Yes we manage bookings, but first we get to know our guests and how we can ignite their epic experience from their first interaction with a W Maldives reservations team member to the last departure email.
Hotelier Maldives: How would you define your leadership style? What is the most rewarding aspect of being a leader?
Shidha Hussain: I am definitely an influencer with a positive attitude. My leadership style is being highly supportive of my team; when they need guidance, empowerment, and sometimes friendly reminders. I believe that motivating others is the best encouragement and we all need it from time to time. Leading by example works for me as I have high expectations of both myself as well as the team.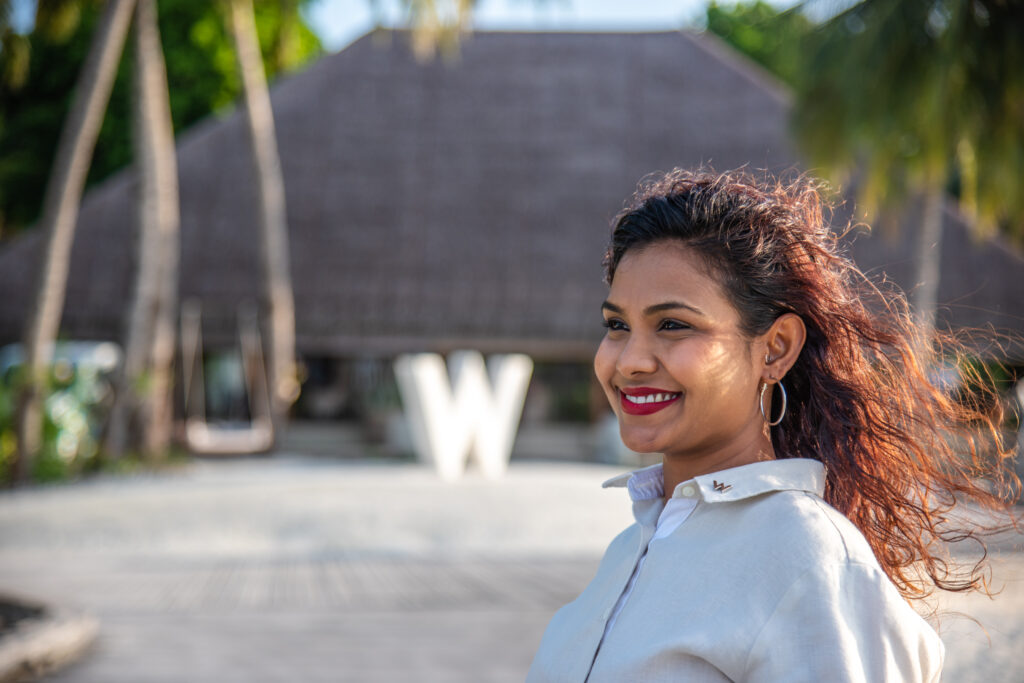 One of my favorite quotes I live by: "A leader doesn't assume a leadership role simply because someone hands them a title; instead, a true leader is born when trust has been established on both sides, and the team looks to the leader to lead them" – Jeanne Reaves
Hotelier Maldives: What aspect of your role do you enjoy the most and what do you find challenging?
Shidha Hussain: I enjoy empowering my team, coaching them through new standards, providing refreshment on existing standards and letting our guests know of seasonal Spa and F&B options available. I also enjoy highlighting the best attributes of W Maldives such as the colourful house reef, the beautifully crafted Away Spa and of course tasting a Maldivian lobster at the Fish restaurant. The challenging part of the job is the long hours, working over weekends and a lot of sleepless nights taking in last minute requests, amending bookings and ensuring all information has been communicated to the guest.
Hotelier Maldives: Could you describe some of your career highlights?
Shidha Hussain: I was fortunate to lead a team at the time of the merger between Starwood Hotels & Resorts and Marriott International during which two completely different reservation systems had to make way for one. This process spanned across an entire year and during this time the property management system has also been updated. It is during times of change where true leadership shines and I welcome these challenges in the workplace as it is always a plus to hon new skills. In support of a job well done we have received perfect scores for Employee Recognition (2018 and 2019) with 100% quality track calls for brand standards for two years in a row.
Most recently I was nominated as Talent Coach of the Quarter (July – September 2019) These small recognitions really do feel great.
Hotelier Maldives: What would you attribute your success to?
Shidha Hussain: I would like to thank Anuj Sharma, General Manager of W Maldives for being a great mentor to the entire reservations team. He is the number one supporter of increased room nights, entering the office with a smile when we have sold suites and a motivational driver in times where we all need to go that extra mile. Anuj has taught us the power of teamwork, perseverance and ownership to each person's role while working towards a common goal.
Hotelier Maldives: What advice would you give for aspiring young female leaders?
Shidha Hussain: Always believe that anything is possible even when the odds are against you. Embrace challenges and follow your passion with determination, because you are and you can!